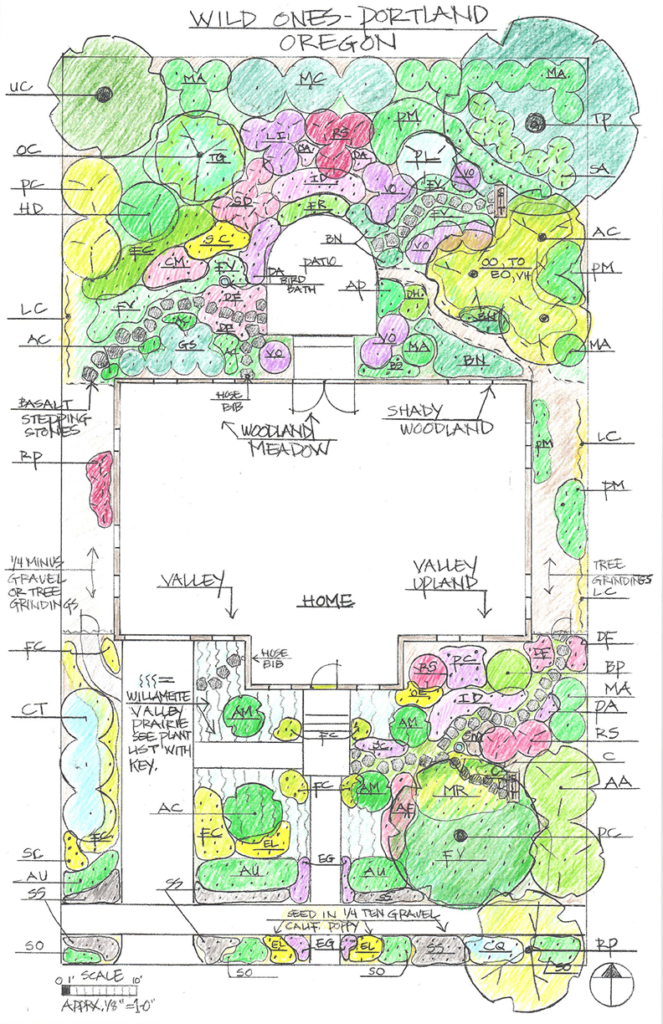 Printing note: This design was created to be 8.5″ x 14″ and the design pdf will print best on legal size paper.
---
Native Garden Designs Video Series:
LAS CRUCES Discussion with Designer Donna Giguere
---
Project Notes
Most of our soils in the area tend to be acidic in PH and their profile is either sandy loam, clay loam or clay. All of our soils will benefit from the addition of compost to improve texture, adding oxygen and improving the soil biome. Provide weekly water the first 3 summers and less in subsequent years except during extreme heat. Trees should be watered deeply as needed even after three years to promote growth, shade and habitat. Phasing of the plantings may be by section but because trees take time to mature, plant the trees first. Planting densely helps to retain moisture and deters weeds. Many of the groundcovers in this plan will spread and fill in any gaps, reducing the need for yearly mulch. When placing large shrubs and trees, attention should be paid to the views from windows and privacy. For maintenance, it is possible to simply clean the walkways, pull the weeds and let the leaves lie for insects and birds. Mulch using course compost, bark mulch or ¼ ten gravel (screened and clean), which creates a different look. In this plan it may be used for the parking strip or the entire front yard. No other type of gravel should be used for mulch.
DESIGNER STATEMENT
This design was created by Donna Giguere Landscape Design. The drawn plan is an example of what is possible with using native plants in a Portland, Oregon urban neighborhood. Although we receive much rain here in the winter and spring, our summers are frequently on the dry side. Climate change may alter the present weather patterns but native plants tend to bounce back from extreme weather fairly well. Trees and dense vegetation provide habitat for birds and insects but also help cool the urban heat-sink.
The selected plant palette is not one-size-fits- all but may be useful in determining what works in the sun or shade. Your home, surrounding properties and tree cover will modify the planting selection. Plantings were selected for wildlife food, habitat, nest materials and cover. Berries provide food for people and birds. Our winters are mild so year-round interest, food and habitat are considerations in plant selection.
PLANT LIST
ABOUT THE DESIGNER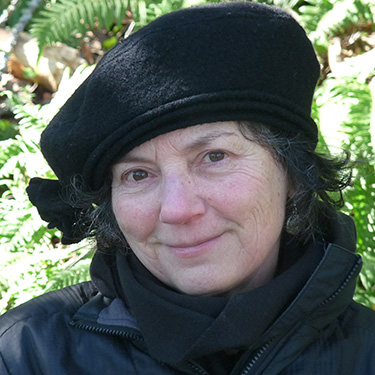 Donna Giguere earned a Bachelor of Science, Art Degree in sculpture from Portland State University while also studying and practicing horticulture.  She received her landscape design education from landscape architects at Clackamas Community College. Her artistic ability has led to awards in sculpture and in landscape design. She is previously a certified Fellow of the International Association of Professional Landscape Designers and is a founding member of the Oregon chapter.  She is a member of the Native Plant Society of Oregon and the Association of Northwest Landscape Designers. With over 26 years of practice, lots of hard work and joy, she intends to keep a focus on native plants. She currently owns and operates Donna Giguere Landscape Design.
---
About Wild Ones
Wild Ones is a non-profit organization that promotes environmentally sound landscaping practices to preserve biodiversity through the preservation, restoration and establishment of native plant communities.
Some of the ways Wild Ones strives to accomplish our mission is by providing educational resources and online learning opportunities with respected experts like Wild Ones Honorary Directors Doug Tallamy, Neil Diboll, Heather Holm and Larry Weaner, publishing an award-winning journal and awarding Lorrie Otto Seeds for Education Program grants to engage youth in caring for native gardens.
Wild Ones depends on membership fees, donations and gifts from individuals like you to carry out our mission of healing the Earth, one landscape at a time.