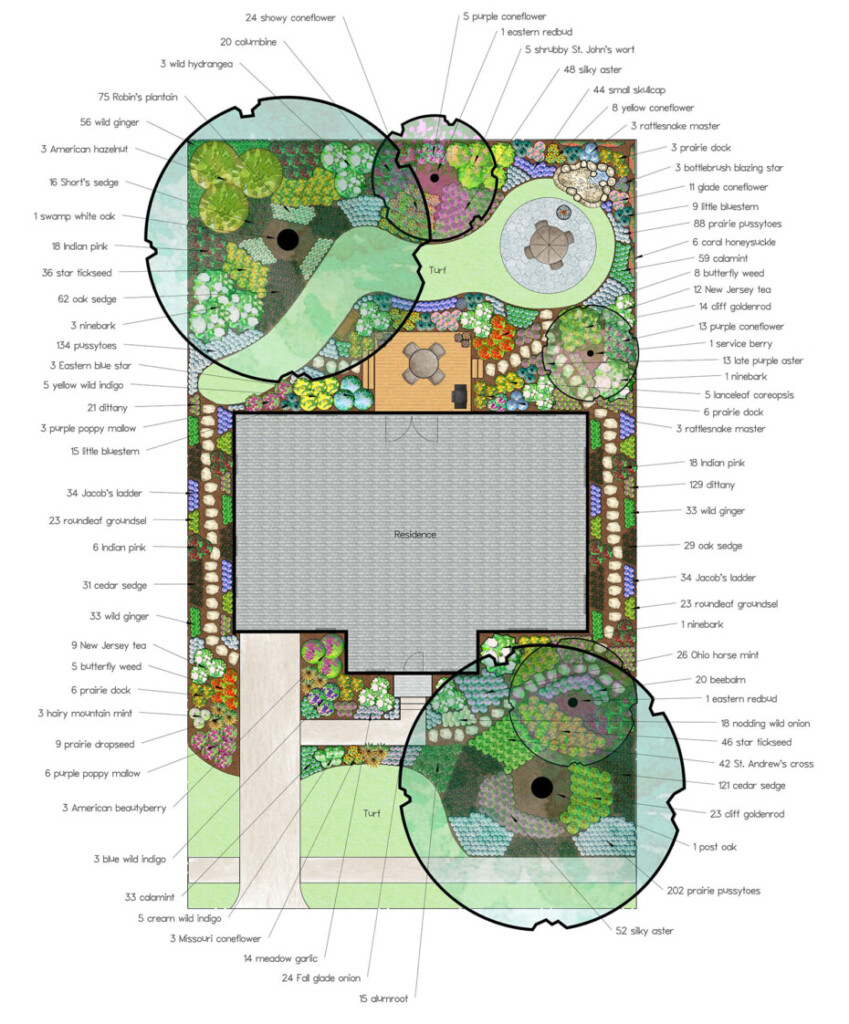 Printing note: This design was created to be 8.5″ x 14″ and the design pdf will print best on legal size paper.
---
Existing Site Conditions & Plant Communities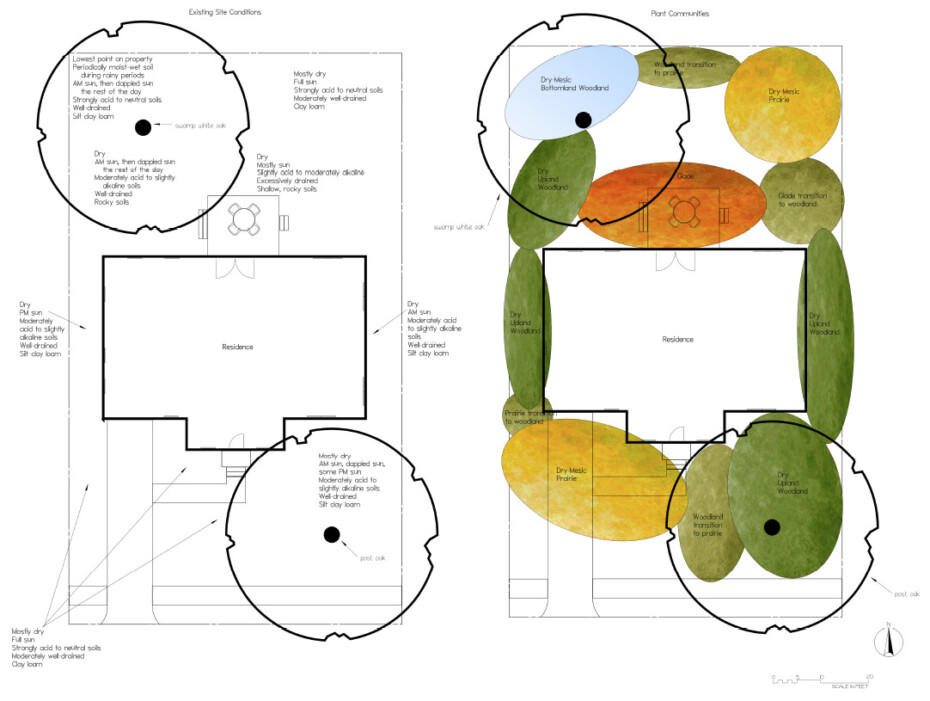 Phasing
Phase 1)
Front yard – Everything up against the house could be planted first to frame the front of the house. If the oak tree is not already present in the front yard, the oak tree & the redbud can be planted in this phase also to give them some time to establish. **Take care to not plant too close to the tree trunks, staying at least 4-5 feet away from the trunk at time of planting so as not to damage tree trunks or shallow roots.
Phase 2)
Back yard – Plantings around the deck (glade, glade transition to woodland to the east, and upland woodland to the west) could be planted first to frame the existing gathering area and to bring wildlife activity closer to the house for you to see!
Phase 3)
Back yard – Plantings in low-lying area could be planted next. If the oak is not already established here, then plant the oak first and wait to install these plantings until the oak tree is well established and shading this area of the yard as most of the plants in this corner prefer shadier conditions.
Phase 4)
Back yard – Hardscapes (circular patio/fire-pit area) & pond-less water feature may be added at this time with the surrounding plantings to follow as soon as construction is complete (from the redbud to all plantings surrounding the water feature to approximately the southernmost vine on the east fence). Right after construction can be a great time to plant since you have a blank slate to work with.
Phase 5)
Front yard – Once more shade is established in the front yard by the oak tree & redbud, everything else may be planted.
Phase 6)
Back yard – Once more shade is established in the back yard under the swamp white oak, everything else may be planted in this corner.
Phase 7)
East & West sides of house – Aesthetically this is the lowest priority – Not very visible and not the most heavily used section of the yard, so this may be planted last. **Mulch or flagstones may be used for walking paths.
Phase 8)
Turf replacement – Remaining turfgrass areas may be replaced with buffalograss or other native turf alternative to reduce watering, fertilizing, and mowing for a more sustainable lawn.
Plant List
This list is inclusive of only the native plants in this specific native garden design. The list is meant to provide a basic preview of the beautiful and diverse plants featured in this design and serve as a reference tool when selecting plants at a nursery. (The list can be printed in two columns using landscape mode in your print settings.) More thorough information about each of these native plants can be found online at the Audubon, Lady Bird Johnson Wildflower Center and United States Department of Agriculture websites, all of which provide a wealth of native plant information including comprehensive North American native plant databases.
About the Designer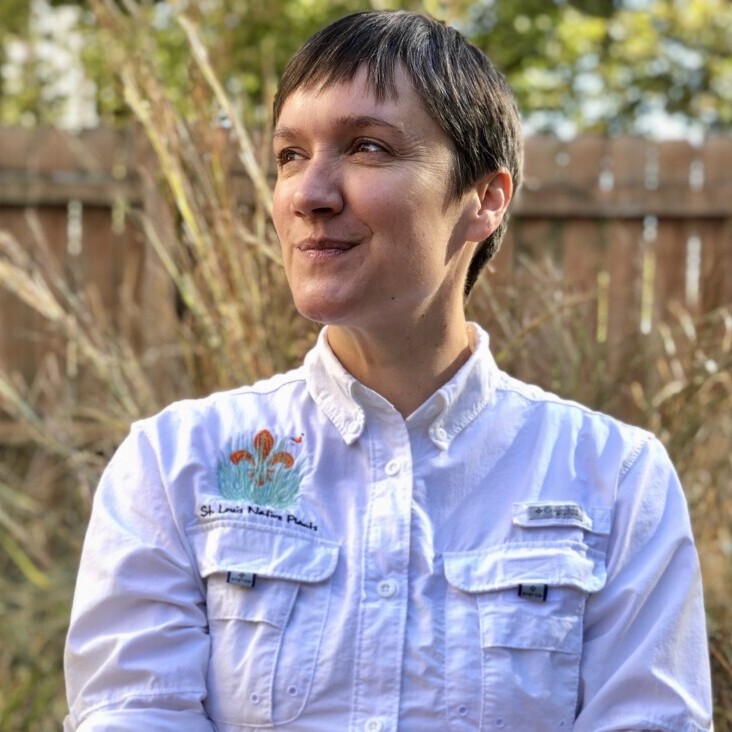 Susie Van de Riet is the founder of St. Louis Native Plants LLC, whose services include consulting, coaching, design, & education. She obtained her bachelor's in Women's Studies and AAS in Horticulture. She is an ISA Certified Arborist and an NAI Certified Interpretive Guide. She has a passion for native plants and has been landscaping with them since 2009. Susie has served as Education Subcommittee Chair of Grow Native! and has participated with the St. Louis Audubon Society's "Bring Conservation Home" program as a Habitat Advisor. She is a member of Grow Native! and Wild Ones and worked as a horticulturist managing 130+ acres at Forest Park. Her last yard was Platinum Certified with the BCH program, and she has attained the same certification for her current yard. She loves sharing the benefits of native plants with others.
Listen to Susie discuss her native garden design for Wild Ones on St. Louis Public Radio!
Designer Statement
When I design a native landscape, I get to be the composer for a "symphony" of plants: Bringing together all elements including clients' ideals for the space, how they want it to function, time they want to spend on maintenance, what kind of wildlife (including arthropods) they hope to attract or deter, and completing a site analysis. From there, I select a suitable plant palette and layout for that space. I incorporate standard design elements such as ensuring a variety of interest is present in the garden year-round, incorporating focal points, etc. I make sure to talk through maintenance tips and wildlife benefits with every client to ensure they have some idea of what to expect from their landscapes and how to manage it. Education is the key to success. It's an absolute joy helping clients to create landscapes they will enjoy and that will work with their natural environment.
---
Annual Appeal for Donations
With your support, Wild Ones will flourish, and expand programs and services to support native landscaping nationwide.

Now is the time to act! Will you make a gift today that empowers us to move the mission forward and extend our reach and impact in the native plant movement? It is our sincere hope that in the near future you will be able to see native plants and natural landscapes in every community; offering refuge to wildlife and connecting people to nature for a healthier planet.
donors have already helped us raise % of our $50,000 goal! Your gift is crucial. We depend on membership dues, donations and gifts from companies, foundations and individuals like you!
About Wild Ones
Wild Ones is a non-profit organization that promotes environmentally sound landscaping practices to preserve biodiversity through the preservation, restoration and establishment of native plant communities.
Some of the ways Wild Ones strives to accomplish our mission is by providing educational resources and online learning opportunities with respected experts like Wild Ones Honorary Directors Doug Tallamy, Neil Diboll, Heather Holm and Larry Weaner, publishing an award-winning journal and awarding Lorrie Otto Seeds for Education Program grants to engage youth in caring for native gardens.
Wild Ones depends on membership fees, donations and gifts from individuals like you to carry out our mission of healing the Earth, one landscape at a time.